your customer base at a glance
You have a very broad customer portfolio. Most of your customer relationships are exemplary to unremarkable. Only a few customers have payment difficulties or even defaults. But it is precisely these critical customers that you need to keep an eye on - a challenge for credit managers.
Is the specific case of default merely a temporary bottleneck at your customer, or is the default a serious indication of financial difficulties? Wouldn't you like to know at an early stage?
DDMonitor365 offers you a convenient connection to your ERP system Microsoft Dynamics 365 Business Central, which can be used very easily without much effort.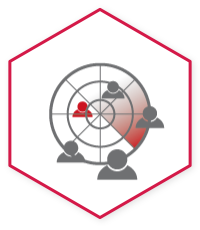 The German Debtor Monitor, or DDMonitor for short, automatically combines information from data sources relevant to creditworthiness in a database. Intelligent networking creates the optimum information basis.
DDMonitor offers information elements with payment experience and collection data from all DDMonitor partners. The quantity, quality and intelligent networking of data sources creates a comprehensive picture of your customers' creditworthiness. This provides you with a functioning radar and early warning system on which you can base your operational decisions.
Integration in
Microsoft Dynamics 365
Connects the DDMonitor to your Microsoft Dynamics NAV system
All information is retrieved and managed directly in your NAV accounts receivable
Research, enter and correct your business partner addresses with the phonetic online search as an integrated service: no more tedious typing and errors
Storage of historical entries as a development overview for your business partners
All information available at a central location, directly at the relevant process (e.g. offer)
Avoidance of costly errors, double entry and duplicate queries
Automatically updated information and monitoring of your business partner development
Rights to query, view and access data standardized in NAV
Enforcement of a uniform credit directive is facilitated
In these videos, we introduce you to the functions of DDMonitor365.
Video 1: How does the DDMonitor for Dynamics NAV work?
Video 2: DDMonitor NAV - Product presentation
Video 3: Convince. About witnesses! DDMonitor
well-founded credit decision
With the help of DDMonitor, you receive much more detailed and transparent information about your debtors. The high informative value of the data generated guarantees well-founded credit decisions and is also easier to present in communication with sales. By condensing the data into a risk indicator (creditworthiness index), your processes can be automated, which is reflected in significantly greater efficiency.
Informed early on
You are informed daily about all changes in your customer portfolio that are relevant to you so that you can take the appropriate measures quickly.
You can decide for yourself which changes you want to be informed about and which information is irrelevant to you.
Lower costs for more performance
Compared to the tried-and-tested information products, which are primarily designed for checking new customers, DDMonitor offers commercially viable added value thanks to its attractive pricing. The costs incurred by monitoring a customer portfolio are only a fraction of the potential savings from reduced bad debt losses.
DDMonitor365 is the perfect connection between DDMonitor and your ERP system. You can flexibly set which debtors are monitored by DDMonitor and when you should be informed about which changes.
How often will my data be updated?
How is DDMonitor integrated into Microsoft Dynamics 365 Business Central?
What support can I get for DDMonitor365?
Would you like to get to know DDMonitor365?
We look forward to your request!